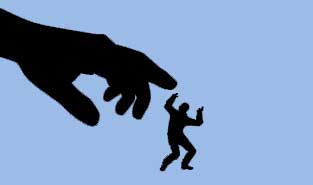 Some of the topics I cover in my column are simply too complex to be covered effectively in one article. The topic of the effects of modern technological environments on romantic involvements fits into this category. I covered one angle of viewing the topic in my last essay. In this essay, I want to focus more on the nature of emotional commitment in romantic relationships today. I pointed out in the last essay how people look at a variety of sexual bodies as a substitute for the lack of organic sensory variety in a living environment relatively bereft of nature, natural phenomena and nature-inspired human creations such as traditional architecture and art rich in ornament and texture. People hook up today not to make and receive imprints, but simply to feel a rush of sexual stimulation that will allow them to fight off sensory distortion and feel alive.
Some of the influence for this behavior today comes not just from sensory distortion but from some of the indirect effects of living in a modern technological society. At the end of the period of life called adolescence, it becomes more and more difficult to enter the stage of life where a person is able to obtain economic independence – the stage of adulthood. This is partly because more and more jobs require more and more training to deal with increasingly complicated computer-controlled machines. And more and more other jobs require advanced education to deal with the increasing flow of freefloating pieces of information, the static stimuli that are the foundation of the increasingly complicated businesses and services required by a modern technological society. It becomes more difficult to contemplate marriage when one is unable to make enough money, even with one's future spouse, to meaningfully support each other as a couple. Furthermore, one member of the couple may have to go to graduate school in one city for his professional development, while the other member of the couple may have to go to graduate school in another city for her professional development, thus putting an enormous strain on a committed relationship.
So the period of adolescence is pushed forward into adulthood as a result of increasingly complex requirements for work. In today's world, when there is early physical sexual maturity, a person can conceivably be sexually ready more than twenty years before being economically ready for a long-term committed relationship in marriage. In such a situation, commitments in sexual relationships can be very tenuous, even for young adults. This is particularly true, because of all the individualizing experiences a young person is encouraged to have today in order to create a unique self definition. It is a unique self definition that allows a person to truly transcend above his sensorily-distorted living environment and become competitive in his work, love, and community life.
Unfortunately, an overly sharply-defined sense of self makes it that much more difficult for someone to find another person who complements him. In some ways the other person fits perfectly, but then there are ways in which the other person has developed in which the person is truly incompatible for him. Less differentiated people are generally much more able to accommodate one another and complement one another in committed relationships.
In spite of all the obstacles I have listed, there are young people who succeed in today's world in forming sustained intimate relationships, at least for a period of time. These are couples where, in spite of all the individualization, individuals are able to find their "other half". And it is exactly that. Because there is little or no grounding in a template of organic community and a template of an organic living environment, people feel tempted to use their partner not only as a romantic and sexual partner, but as a point of secure grounding and a point of orientation to the world. People are drawn to one another with the impelling force that they are normally drawn to the ground with gravity. This is where you get into codependent relationships, where individuals have difficulty defining themselves apart from their partners. The paradox is that you have overly defined individuals in modern technological society who are craving for intimacy and emotional grounding and who then have difficulty separating themselves from their partners psychologically once they get it. And this is the problem that results when a person makes another person his only principal source of social groundedness. And when this happens, one or both members of the couple can get frightened by the loss of self and the couple breaks up and one or more of the members of the couple starts sleeping around again with other people with whom there is no threat of losing one's sense of self. As Dr Jorge Cappon, Mexican psychoanalyst and professor emeritus of the UNAM, mentioned to me, this pattern of breaking out of seemingly established marriages and sleeping around is becoming increasingly common today.
In traditional society, individuals find emotional grounding in many different layers of family and community. This alleviates the emotional intensity on the romantic partners. But as families and communities crumble in modern technological society and couples find themselves without a support system, they cling to each other in the sensory distortion of the vacuum and static society, until they break apart.
Are there exceptions to this tendency towards codependency in intimate relationships today. Yes, there are couples where there are partners who maintain a healthier distance emotionally from one another. Usually, it is because they are capable of staying connected to larger families and communities that remain intact in spite of the sensory distortion in their environment. There are individuals and couples and groups that are psychological survivors in spite of the sensory distortion.
This is in contrast to all the people who are incapable of finding even a pathological form of intimacy, because one person doesn't provide enough sensory variety for them in an environment deprived of organic stimuli. And yet, for these people, it somehow works out perfectly on one level of survival. The period of adolescent sexual experimentation gets extended forward into young adulthood and beyond. A person evolves into a very old adolescent because of increasing education and job training requirements. The craving for sensory diversity continues to be satisfied even after the prolonged period of education is over. Everything seems to be fine on the surface, but the need to make, preserve and receive imprints remains increasingly unfulfilled among these perpetual adolescents. The exceptions to this trend in modern technological society are, to some extent, codependent couples, who lose their senses of self in the process of trying to make, preserve and receive imprints in an increasingly sensorily distorted living environment. Also, there are some other couples who amazingly survive in healthy committed relationships in these difficult times.