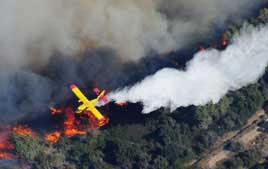 Current situation of assistance from abroad in the Carmel forest fire
4 December 2010
Communicated by the Foreign Ministry Spokesperson
Israeli diplomatic missions in capitals around the world are continuing in their efforts to accelerate international assistance to enable the country to cope with the disaster. The Ministry of Foreign Affairs has established a situations room with representatives from the Israel Air Force, the National Emergency Authority, the firefighting services and other agencies.
Following is the current situation according to the data received in the MFA's situation room:
Twenty one aircraft and helicopters have arrived in Israel. Of these, 13 are actively engaged in extinguishing the blaze.
Breakdown by country:
Greece: 4 aircraft and an additional Hercules plane for equipment and cargo.
Cypress: 2 aircraft, 1 plane and 1 helicopter
Great Britain: 2 helicopters
Turkey: 2 planes
Russia: 4 planes, including 1 B-20, 1 YAK which brought in 10 experts and two Ilyushin-67s.
France: 1 cargo plane
Italy: 1 cargo plane
Bulgaria: Approximately 100 firefighters
Jordan: 3 firefighting vehicles and fire retardant materials
EL Al has also flown in fire prevention materials from Marseille.
An additional thirteen planes are expected to land in Israel today, Saturday 4 December 2010:
The United States: 2 Hercules planes originating from the US Air Force base in Germany, expected to land at approximately 1800 hours at Ben Gurion Airport. They are expected to carry fire retardant materials and other essential equipment.
Russia: 2 helicopters
France: 2 firefighting aircraft
Spain: 4 firefighting aircraft and an additional cargo plane
Azerbaijan: 2 helicopters
Switzerland: 1 helicopter
Tomorrow, Sunday 5 December, an additional 3 planes from the US and one from Canada are expected to arrive.
From Prime Minister Netanyahu's press conference at Haifa University Forward Command Center
4 December 2010
I have spoken with approximately 30 heads of state and government, presidents and prime ministers, in the past three days. I must tell you that their mobilization, the warmth of their remarks, their willingness, the desire to help immediately, sometimes even before we have managed to request it, must warm the heart of all Israelis. There is very great solidarity here and there is very great cooperation, of course in keeping with their abilities. People are bringing what they have. Governments are bringing what they have, as per the distances which are often considerable; but not even this is deterring people.
Over the past day, this effort has led to our being equipped with an aerial force of ten planes – four from Greece, two from Turkey, one from Cyprus and one from Russia. These aircraft have started to operate. They are in addition to our planes, you saw them, the sprayers that are doing exceptional work, but of course we need the massive force and this has happened. We have also received three British planes, one from Cyprus. These are the forces that we have succeeded in bringing immediately from not very far away. In the coming day, I expect that we will double this force with firefighting aircraft from France and Spain. There have been weather and other problems but as you see, we are overcoming them, and they will be welcomed. Also, the force of helicopters is being doubled and even tripled.
We have also witnessed displays of admiration and assistance from Egypt, from Egyptian President Hosni Mubarak, from Jordanian King Abdullah, and from Palestinian Authority Chairman Abu Mazen, who volunteered to send three firefighters. I think that these things are very important. I had a very good and warm talk with him. I expressed appreciation both for this step and for his solidarity in conveying his condolences, as others have also done, and I told him that we're in the same neighborhood. The fire is once here and once there. We are, in effect, creating a regional network, after we purchase the planes, the planes will join a regional network that I believe we can establish here for the benefit of all of our peoples.