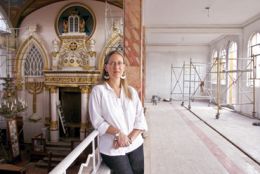 A word used again and again by both Jews and non-Jews to describe the Jewish community in Mexico to me as I researched this story was cerrada–closed. "Wealthy" was another. "They live in Polanco," one taxi driver told me knowingly, speaking of the swanky Mexico City neighborhood where Orthodox Jews in black hats share park space with manicured Mexican mommies and synagogues share blocks with high-rise hotels and Hummer dealerships. "They help each other out," was another lay opinion. As with most stereotypes, I found elements of truth in all of the above. What I wanted to know was whether Jews have integrated into Mexican culture, or are just another group who happen to live here. More explicitly, what makes Mexican Jews different from Jews anywhere else in the world?
Mexico's 40,000-strong Jewish community is unique and varied, and made up of several communities, each with distinct flavors and traditions. They were also incredibly welcoming to me. As an Australian Jew living in the Distrito Federal, I was invited to eat cholent (a traditional slow-cooked stew served on Sabbath) at a Kiddush after a Saturday synagogue service; to join in several Shabbat dinners (which I regretfully had to turn down); and even attend a Jewish women's cooking class, a frenzied extravaganza in a Polanco synagogue where 300 religious women, most in long skirts and wigs, sat before a giant stage for a multimedia class on how to concoct kosher delights such as "Extraordinary Rice" and home-made challot, traditional plaited bread loaves. I'm not sure how much this welcome was because I was Jewish, and therefore accepted into the tribe, or was a Jewish adaptation of the Mexican standard "mi casa es tu casa." If the latter, it was one of many mexicanisms that the Jewish community has adopted, ranging from mariachis at weddings to gefilte fish a la Veracruzana.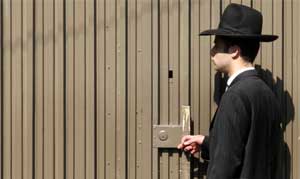 "If you compare Mexico to any other place where Jews live it's a little paradise," says Jessica Kreimerman Lew over tea and banana bread at CasaLuna, an interfaith community center with a plant-filled courtyard, wind chimes, and a welcome sign on the door in Hebrew and Spanish. A self-described "insider/outsider" to the Jewish community, Kreimerman is a tall, slim woman with flowing, light brown hair and intense green eyes. "They came with the idea that anybody who works can do well, and they did very well, and they had the religious freedom many could only have dreamed of in the countries they came from." Before I leave, she wraps a piece of banana bread in a napkin for me to take home, just like my Jewish aunt would do.
Kreimerman's house is in La Condesa, where a small but still pulsing heart of Judaism persists. In the 1930s and 40s, the unofficial language of the Parque Mexico-today a bustling hub for the neighborhood's arty and international set-was Yiddish. The park still boasts a giant bronze sculpture of Albert Einstein's head with the inscription, "A gift from the Israeli community." A few blocks away at Acapulco 70, there's a Jewish museum, archives, and synagogue, with a kosher deli downstairs. Several more small orthodox synagogues hide inside houses on Amsterdam Street. On the corner of Montes de Oca Street and Parral, among the restaurants, boutiques, and Diego Luna's trendy new café, sits another synagogue, where Kreimerman takes me one sunny Saturday morning for the weekly Sabbath prayers.
From the street, the place looks closed, but Kreimerman punches a secret code into the door and it snaps open. Inside, before a blue-velvet curtained arc and brass menorahs, a man in a black and white prayer shawl stands swaying and praying, his soft voice running smoothly over the Hebrew words. The women sit in a small reserve of mostly empty seats at the back, closed in by curtains. In the final row, two old men sit mumbling and gossiping in Spanish, every now and then stopping to say "omein" (amen) in thick Yiddish accents. "Those two old men always sit in the corner making noise," Kreimerman laughs.
After, she takes me to the Kiddush, where two long trestle tables are set up with plastic tablecloths: one for the men, one for the women. On the table are kugguleh, traditional Jewish sweet bread marbled with chocolate; potato chips, eggplant dip, boiled eggs, sardines, a bottle of vodka, kosher wine, grape juice, and diet coke. "They usually have tequila," says Jessica. There's also lemon and chile, another example of the syncretism that sees Mexican Jews eating guacamole on their bagels and interchanging pozole for matzoh ball soup, blintzes for quesadillas. "I see us as seeds that take on characteristics of the soil," Kreimerman says, explaining the way Jewish life has taken on Mexican flavors.
"We have a double identity. We are Mexicans as well as Jews," says Emilio Betech, who, along with Enrique Chmelnik and Ricardo Silva, hosts "El Aleph," a weekly radio show about Jewish culture broadcast on Radio Red. He estimates that about 90 percent of his 30,000 listeners are non-Jewish. "There's a general sense that the Jewish community is very closed, meaning hermetic, meaning not open to the rest, which in some aspects might be true," he says. To be sure, the community has one of the lowest assimilation rates in the world: more than 85 percent of Mexican Jews marry other Jews, compared to less than 50 percent in Europe and the US. More than 90 percent of Mexican Jewish children attend Jewish schools, another statistic to make the rabbinates of other Diaspora communities drool. Growing up in Mexico City, Betech says his social circle was almost exclusively Jewish, as was the case for many Jews I spoke to. His program receives calls from listeners wanting to know about everything from the laws of kashrut (keeping kosher) to whether or not Jews are allowed to keep pets. "We found a large amount of the [Mexican] population who never had the opportunity to speak to Jewish people. There's a lot of curiosity. They seem to be very interested in religious practices, though that's not really our program's focus. They find them exotic."
"Jews are seen as an elite," says Karina Morales Martinez, a Spanish teacher who lives in Colonia Roma, which like Condesa was once a largely Jewish neighborhood. "It's a bit malinchista," she continues, referring to a Mexican tendency to revere outsiders, "but many Mexicans want to be Jewish because they're seen as foreigners. The classic idea of a Jew in Mexico is of someone blonde with blue eyes." Indeed, compared to many Mexicans, Jews are fair-skinned, and some who came from places like Turkey or Spain had red hair and blue eyes, while many who arrived from Russia or the Ukraine were blonde, a reversal of the traditional racial (and racist) stereotype of Jewish people having dark skin, dark eyes, and large noses. Several people I spoke to commented that the Jews have probably benefited from the stratification of Mexican society along lines of class and race, prejudices the Jewish community itself is often accused of reinforcing, though no one wanted to be quoted as saying so. Several times a source, alluding to an unspoken rule that Jews never speak badly of fellow Jews to the "outside world," leaned forward to whisper, "The Jewish community is very elitist, but please don't put that. I'm only telling you this because you're Jewish."
***
Monica Unikel is third-generation Mexican Jewish, with thick blonde hair that swings loose over her shoulders and pretty, pale blue eyes that blink out from behind a pair of metal-framed glasses. I met her on a recent morning in the Centro Historico, where she leads Jewish walking tours. "All this area was Jewish," says Monica, whose grandparents arrived from Russia and Poland in the 1920s and went into the sweater business. She points on a map of the Centro to a tight grid of streets several blocks north and east of the Zócalo. "Hundreds of Jewish families used to live here." She puts her finger on Calle Jesús María. "You can joke, how could the Jews be in a street called Jesus Mary? But this is the street where they had their Jewish grocery stores, where they sold dill pickles, herrings, where there were kosher butchers, bread shops where they sold European bread, boarding houses and cheap restaurants for immigrants."
The first Jews in Mexico arrived with Hernán Cortés, though they are believed to have been conversos-Spanish Jews forced to convert to Catholicism to escape the Inquisition. Most of them married into Mexican families, became devout Catholics, and lost their links with Judaism. The community today is mostly made up of descendents of immigrants who arrived in the late 19th and early 20th centuries, mainly from the Middle East (Sephardis) and Eastern Europe (Ashkenazis). Many were trying to get to America but forced to change course when the US tightened its borders in 1924. Some fled pogroms in Russia and other parts of Eastern Europe in the 1880s, others came as part of a large wave of immigration following the collapse of the Ottoman Empire in 1918. Finally, another mass of immigrants fled the Nazis before and during World War II. While some migrants set up communities in smaller Mexican towns and cities-there are Jewish communities in Guadalajara, Monterrey and Tijuana-the vast majority went straight from the port of Veracruz to Mexico City.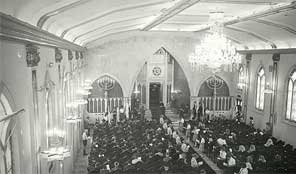 Around us, Calle Justo Sierra bustles just like any other street in the Distrito's historic downtown. Bells from the domed Loreto church peal in competition with cumbia music blaring from pirate CD stalls. Clothing shops selling thong underwear, cheap t-shirts, and dresses displayed on mannequins hung from ceilings sit alongside haberdashery stores crammed with shoelaces, ribbons, buttons, and lace-remnants from a time when this was the heart of the textile trade, and home to the Jewish traders who lived and worked it.
Across the street, two old synagogues share a block. They look just like any of the other commercial buildings, save for a Star of David on the wall of one, built in 1918 by Sephardi Jews from Syria, and on the door of the other, built in 1941 by Ashkenazi Jews from Eastern Europe. The Syrian synagogue still comes alive each day at 2pm, when a group of Jews who work downtown say midday prayers and eat a kosher lunch. Inside, their phone numbers are penciled on a column, in case they lack the ten men to make a minyan-the quorum necessary to conduct Jewish prayers-and must call in extras.
We pass a storefront offering tortas, two for thirty pesos, and enter the Ashkenazi synagogue. The red brick neocolonial façade gives way unexpectedly to a courtyard, behind which a separate, grander building stands, with arched windows and a ceiling painted green and blue with stars and doves. On the back wall is a mural depicting the Garden of Eden. No longer an active synagogue, it is being restored, with plans to turn it into a museum. Mexican artists are busy at work restoring the marble-look finish on the columns and sanding down the woodwork carvings on the bimah, or platform. "I love this place," says Monica of the building originally copied from a photo of a Lithuanian synagogue. "You're not in Mexico. You're two blocks from the Zócalo, and you're in Lithuania."
When the Jews arrived, most of them went into selling, usually textiles, Monica explains. They would often go from door to door hawking stockings and socks from boxes worn across their chests, upgrading when they could to market stalls, then stores, and even factories. "The majority lived in tenement houses with a patio and rooms around the courtyard," says Monica. Jewish names were unpronounceable to Mexicans, so many changed them. Faeger became Fanny, Masha became Maria.
"Life in the Centro was very austere. People saved every centavo. Those who wanted to keep kosher used to go to the Merced and buy their chickens live. In the market there was a kosher butcher who killed the chickens. He charged 10 centavos. If they wanted the chicken [de]feathered, it cost another 5 centavos. But many didn't want to spend that extra 5 centavos, they wanted to save money, so they plucked them at home."
Many were able to prosper quickly in Mexico, Monica says. They expanded into other professions, with second, third and fourth generations represented in everything from politics to show business. In the 50s, 60s, and 70s, the center of the Jewish community shifted west as Jews moved to Polanco, Las Lomas, Interlomas, Bosques, and Tecamachalco, where the majority are now based.
***
In the hills of Mexico City's leafy, affluent northwest, Avenida de las Fuentes weaves through the suburb of Tecamachalco, closing around it in a loop. At a junction with Fuente de la Templanza (the Fountain of Restraint Street, sagely running parallel to the Fountain of Youth Street), surrounded by blocks of high-rise luxury apartments, a gymnasium, a hairdresser, a liquor mini-mart, and a Subway sandwich store, is what residents refer to as the Distrito Federal's Little Tel Aviv. "Come by on a Friday night or Saturday morning and the streets are filled with Jews, all walking to Temple," says Shauna Leff, an American Jew who's lived in Tecamachalco for the past two years with her non-Jewish Mexican husband, Milton Jorge Reyes. "You see all the religious types-the men in hats, the women in wigs. You wouldn't know you're in Mexico."
Across the avenue, the Kosher Palace gleams, with its white, grated storefront and blaring Israeli music. On its packed shelves you can find spices from Israel, halva, Israeli chocolate spread, New York pretzels, football-size jars of pickles, frozen schnitzel, falafel, and kosher everything, from Skippy peanut butter to baby food. A little further up Templanza is the Shuky Centre, a multi-story kosher food hall with schwarma, sushi, kosher Mexican food, and separate sections for meat and milk, in accordance with Jewish law. The deli stocks Syrian lavash bread, kosher chickens, and challot. A notice board advertises religious talks by a visiting rabbi, kosher cooking classes, and entertainment companies for bar mitzvahs and weddings.
As we drive around in Shauna's fire-engine-red Jeep, she cuts through the midday traffic like a formula one driver while talking a mile a minute, pointing out other Jewish landmarks-temples, schools, where to get the best falafel. "This is where Jewish people come to do their shopping," she says, as we pass the Sinai Deli and Bakery, Sastreria Saul, butcher shops with Hebrew kosher signs, and kosher taquerias among the Mexican main street staples: florists, grocery stores, and altars to the Virgin of Guadalupe. The schools are huge, gated compounds, with security guards, no signs and electric wire fences. The synagogues and temples-at least six in Tecamachalco-are unmarked.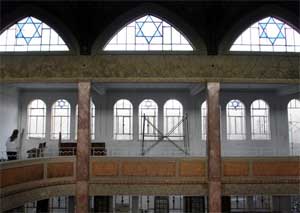 "The Jewish community doesn't like to draw attention to itself," says Mauricio Lulka, director general of the Central Committee for the Jewish Community in Mexico, from its headquarters inside an unmarked, yellow-walled compound in Las Lomas. This probably says more about how Jews feel after centuries of persecution than about their experience of Mexico, though it is also a security measure; perceived as wealthy, Jews have in the past been targeted by kidnappers. Yet according to the Tribuna Israelita, the analysis and opinion branch of the Central Committee responsible for monitoring anti-semitism, the incidence of discrimination in Mexico is low compared to other countries (they were unable to provide figures). This is in stark contrast to other Latin American Catholic countries with large Jewish populations like Argentina, which has suffered several high-profile anti-semitic attacks, including the bombing of the Israeli embassy in Buenos Aires in 1992. As perceived by the Tribuna, the main expression of anti-semitism in Mexico takes the form of anti-Israel protests, such as those in newspaper op-eds and outside the Israeli embassy during Israel's strikes on Gaza earlier this year.
Another particularity of the Mexican Jewish community is its infrastructure, Lulka says. "In Mexico 95 percent of families are affiliated to a community. It doesn't matter if you're observant, or you're liberal, or you're secular, or even if you are atheist, you belong to a community in accordance with the origin of where your forebears came from." Within the Jewish population there are two Syrian communities, one from Aleppo and the other from Damascus, an Ashkenazi community from Eastern Europe, a Sephardi community from Turkey, Greece, and the Balkan States, and a conservative community started by immigrants from the US. Each one has its own synagogues, schools, traditions, and customs. For example, the Syrian community is known to be more religious, whereas the Sephardi community from Turkey is generally seen as less so, meaning different communities often don't mix, though this is thought to be changing.
Uniting the different communities are the Central Committee and the Jewish Sports Centre, an enclosed, 10,000 square meter mini-city that has provided tennis courts, football fields, dance studios, ball rooms, Olympic gym and swimming facilities, and classes and courses for Mexican Jews for over fifty years. The community's infrastructure is so complete it reaches into every area of members' lives, from ambulance services to cemeteries, scholarships to welfare assistance, and even anti-kidnap response. It's like a parallel universe co-existing alongside Mexico's mainstream one. It occurs to me that a Jewish person could live their entire life within the community's invisible walls, barely having to interact with Mexico proper, and no doubt some do. That said, Jews are increasingly taking prominent positions within the wider community: in politics, media, architecture, and the arts. They seem comfortable, well-off, and at ease in Mexico. Many I interviewed spoke of their love for this country.
Sitting in Lulka's office, I wonder out loud whether Mexico's infrastructure, often shaky and unreliable, is one reason Jews have built and strengthened their own institutions, and also whether a country like Mexico, where family ties are key, provides Jews with a perfect environment in which to foster community links. Lulka, a middle aged man with a thick moustache and gently graying hair, shrugs as he leans back in his chair, a framed picture of a Torah scroll on the wall behind him. "The Jewish community is completely integrated with the rest of Mexico," he says. "We don't have Jewish lawyers' associations, or doctors' associations, like in other countries. We just have lawyers, we just have doctors. It's got nothing to do with being Jewish. We're part of Mexican society in every way. We just don't marry with them."
Source: InsideMex.com